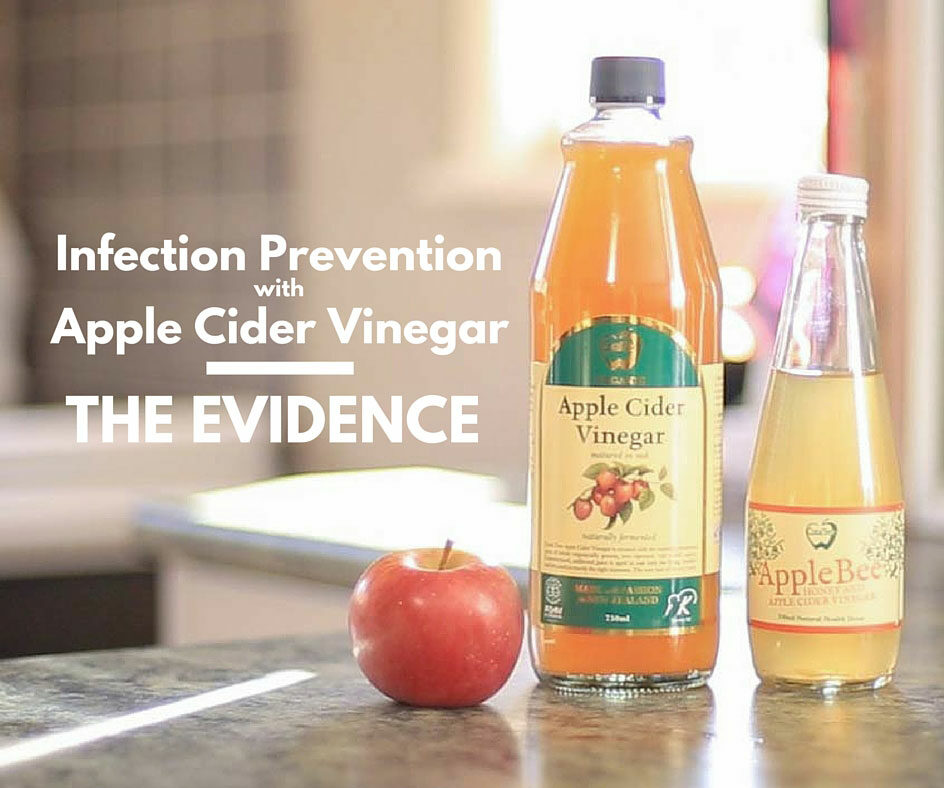 Infection Prevention with Apple Cider Vinegar: The Evidence
We've all heard of the term 'superfoods' by now. But have you heard of 'superliquid'? Well, if someone does come up with that list, we are sure that Apple Cider Vinegar would be on it. From controlling diabetes to preventing heart disease; helping people lose weight by curbing appetites and relieving allergies. The medical uses for apple cider vinegar are, indeed, numerous. Here, we present the evidence on its infection preventing properties.
1. Apple Cider Vinegar helps prevent food contamination
Most of the scientific evidence available talks about its antimicrobial powers in preventing food contamination. In particular, various studies have shown that it reduces contamination with organisms such as E.Coli (which causes diarrhea), Listeria Monocytogenes (which causes listeriosis), and Salmonella Typhimurium (which causes typhoid fever). Vinegars were compared to other methods of washing produce prior to cooking in these scenarios and produced favorable results.
2. Treating fungal infections with Apple Cider Vinegar
A more recent study published by researchers in the 2011 Thi-Qar Medical Journal revealed surprising properties of Apple Cider Vinegar against the fungus, Candida Albicans. This study was performed in the laboratory to compare the effects of Apple Cider Vinegar to traditional antifungal drugs of Western medicine, in particular Fluconazole. They targeted patients with otomycosis, a condition where the ear canal is infected with a fungus.
Otomycosis is on the rise worldwide because of the widespread use of steroids and other medications that can suppress the immune system. Ear swabs from these patients showed that the 2 most common fungi colonies were Candida Albicans and Aspergillus Species. They then tested the response of the fungus to both treatments. Amazingly, results showed that the effectiveness of Apple Cider Vinegar against Candida was even better than Fluconazole. Both were effective against Aspergillus, but Fluconazole did not inhibit the growth of Candida. On the other hand, apple cider vinegar did!
Based on these study results, it was suggested that apple cider vinegar could prove to be a safer add-on therapy or substitute treatment for fungal infections. Granted, this was only a small study involving 18 patients, but results like theirs can't be refuted and this will surely lead to bigger clinical trials soon.
3. Using Apple Cider Vinegar to treat infections
Apple cider vinegar can be used in a variety of ways for medicinal purposes. The National Candida Center in America talks about a daily douching method for vaginal yeast infections using 2 tablespoons of apple cider vinegar with 1 cup of warm filtered water. Dr. Theresa Ramsey, a naturopathic doctor and author, gives the suggestion of using it as tonic gargle by adding 1 teaspoon to half a cup of water in cases of acute tonsillitis infections. She also recommends using apple cider vinegar as a topical treatment for athlete's foot, rashes, calluses, acne and warts.
A long history of success
The benefits of apple cider vinegar have been recorded all the way back to ancient Greek times in 3000 BC. The ancient Chinese, Japanese and European people also used it considerably. It's intriguing that in today's modern world, we are still using a product that was discovered thousands of years ago. But, we think that just proves its amazing abilities. That's why the saying goes, "to eat an apple before going to bed will make the doctor beg for his bread". So, come and check out our full product range!
See for yourself how taking CoralTree's organic, unfiltered Apple Cider Vinegar regularly might just help you skip that visit to the doctor. Order your CoralTree Organic Apple Cider Vinegar online now.
References on Apple Cider Vinegar and Treating Infections
(1) Jabir HB et al. In vitro assessment of antifungal potential of apple cider vinegar and acetic acid versus fluconazole in clinical isolates of otomycosis. Thi-Qar Medical Journal (TQMJ): Vol(5) No(1):2011(126-133)
(2) Johnston CS, Gaas CA. Vinegar: Medicinal Uses and Antiglycemic Effect. MedGenMed. 2006; 8(2): 61
(3) VIjayakumar C, Wolf-Hall CE. Minimum bacteriostatic and bactericidal concentrations of household sanitizers for Escherichia coli strains in tryptic soy broth. Food Microbiology
Volume 19, Issue 4, August 2002, Pages 383–388
(4) Rhee MS et al. Antimicrobial Effects of Mustard Flour and Acetic Acid against Escherichia coli O157:H7, Listeria monocytogenes, and Salmonella enterica Serovar Typhimurium. Appl. Environ. Microbiol. May 2003 vol. 69 no. 5 2959-2963
(5) Molina PM et al. Effects of acidic broth and juices on the growth and survival of verotoxin-producing Escherichia coli (VTEC). Food Microbiology
Volume 22, Issue 5, October 2005, Pages 469–473
(6) Alternative medicine & treatments for vaginal yeast infection (2014) Available at: http://www.nationalcandidacenter.com/Vaginal-Yeast-Infection-s/1832.htm (Accessed: 16 May 2016).
(7) Raw organic apple cider vinegar – many uses (2016) Available at: http://www.drramsey.com/raw-organic-apple-cider-vinegar-many-uses/ (Accessed: 16 May 2016).